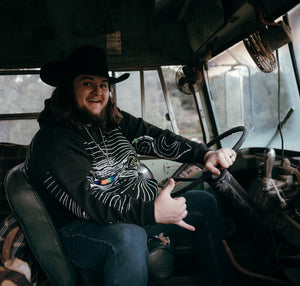 AS FEATURED IN
your love & involvement
WE ARE A FAMILY
From Day 1 , I have made it a point to not be like every other "famous" person. I want my community and supports to feel apart of our family. Without you , I would not be able to create content full-time.

Merch is a great way to supporters me as a creator , and also is a great way to show your love and involvement in our community. If you love the content , this is a great way to ensure we can keep making more !
exploring a passion
WHY I GHOST HUNT
For me , it's about exploring a passion. I saw a civil war drummer boy when I was 11 years old at the Shiloh Battlefield in Tennessee. I remember that night with such clarity, and have been interested ever since. I don't investigate to prove anything or to convince people that the paranormal is real, I just have a vested interest and let people join me through my content.
EXPLORE OUR PRODUCTS
THE SPIRITUAL SIDE
CONNECTION
Being Native Hawaiian, My family is very connected to the spiritual side of the world around us. I think by pairing this with my very unorthodox approach; I can get incredible interactions at haunted locations . I think that spirits get sick of the same old questions, so I like to mix it up. I also don't goto locations and jump to something being evil or demonic. I think that tactic is overused and just paranormal marketing.
SHOP OUR PRODUCTS
SOME OF KALANIS HAPPY CUSTOMERS
★★★★★

Every order from Kalani Ghost Hunter has been wonderful experience! The design of the store has many details, so I know exactly what I get. Most importantly, their customer service is just outstanding!
★★★★★

Awesome Brand. Really stands out from competitions because they actually care about their customers. Quality products as well!
★★★★★

I have been watching Kalani through his tiktok and finally got the chance to buy some of his merch! The good side of buying some of his clothing is me supporting him!
★★★★★

I am super happy with my new Kalani clothing merch. It fits really well and is so comfortable to wear. Using it almost everyday, but need to give it a wash once in a while, haha. Huge recommendation from here!
THE BOTTOM LINE
We work incessantly in pursuit of consumption perfection. We create in service of the people who don't settle for "good enough," because good enough isn't greatness. If your experience isn't perfection, contact us and we'll be standing by to make sure that it is.